Grilled Swordfish Medallions with Italian Herbs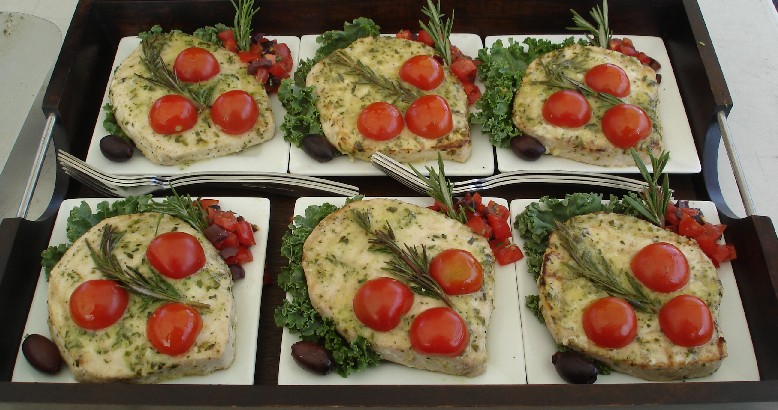 Ingredients:

6 swordfish medallions, approx. 1" thick
1/2 C extra-virgin olive oil
1/2 C melted butter
Garden Gourmet Italian Herbs stir-in paste
(in refrigerated produce section)
3 cloves fresh garlic, minced
1/4 C white wine
Fresh rosemary and cherry or grape tomatoes
Kalamata olives, pitted

Process:

A couple of hours before cooking, combine olive oil, melted butter, Italian herbs paste, fresh garlic and white wine and 2 Tb chopped fresh rosemary. Stir it well to make a slurry, and coat both sides of the swordfish medallions; reserve leftover marinade. Place swordfish in a gallon ziplock freezer bag, and let rest in refrigerator.

While the swordfish is resting, make a caponata of chopped tomatoes, rosemary and kalamata olives; set aside.

Prepare a hot fire for direct grilling. Grill the swordfish medallions for just two to four minutes per side, according to desired doneness -- do not overcook. Turn medallions carefully to avoid breaking. While the medallions are on, you can put the rosemary and cherry tomatoes on the grill too to warm them and release their flavors.

Plate the swordfish medallions with the caponata on the side; smear a bit of the reserved marinade on top of each medallion, then garnish with rosemary and tomatoes.

Serves 6.