RnQ Scores 180 in Dessert at
21st Jack Daniel's World Championship
Invitational Barbecue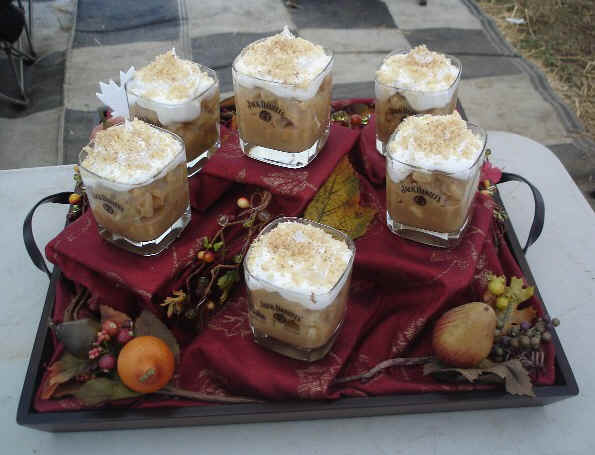 And yes, there's a story behind it -- you knew there would be.

We'd arrived at Jack Daniel's Hollow late Wednesday night, and set up on Thursday. During the day, Mike from Wild Hogs in Colorado told us that the previous year's Grand Champion, 4 Legs Up, was having a potluck that night -- they'd supply the prime rib, and attendees were to bring a side dish. We don't have to be told twice to show up for prime rib! We wondered what the heck we'd bring, though -- it's all we can do to get four meats in a box, we don't do all that well on bringing other food.

So we skated off to Woodard's grocery store, and cruised up and down the shelves looking for something promising. I decided that the go-to solution would be to make a layered dessert, so I got a bunch of yummy things, hauled them back to camp, threw them into a foil pan and trotted off to eat the best prime rib I've ever had, bar none.

When dessert time came, the first person to try the stuff in the foil pan (wasn't that Hundred-Dollar Bill?) rocked right back in his chair, and then went back for seconds. Other tasters had their eyes roll back in their heads, and the consensus was that it was pretty fine.

On Friday, no fewer than five people came by and asked me if I was going to enter that dessert on Saturday, and I got to thinking that maybe there was a message I should be getting. But I was set up for a different dessert entirely, and I had nothing to stage it in, and I hemmed and hawed back and forth all afternoon. Finally VQ said "Go with your gut," and we raced out to the hardware store to buy JD glasses to put it in, and back to Woodard's for more ingredients.

On Saturday, there was no time to think about dessert any more -- it was meat time! We got all our entries in, and then had a bit less than half an hour to throw together the dessert. I assembly-lined the ingredients in, put them on the tray, and hoped I'd get it to the turn-in table on time without slipping in the mud on the way! Somebody caught me in the chute looking like a hunted animal.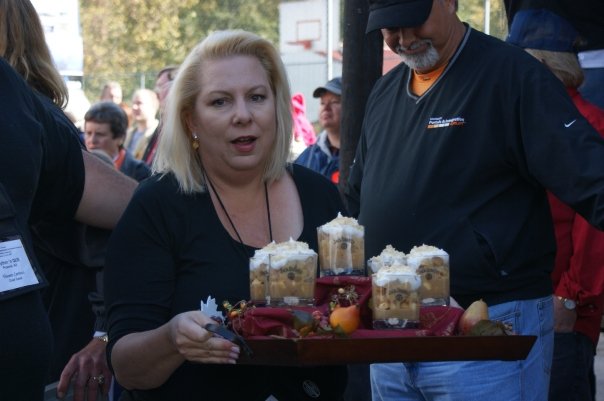 When awards started and the desserts were being called, I heard increasingly elaborate baked-things-with-chocolate being named and figured we'd finished out of the top 10. When the first-place dessert was called, it didn't quite register -- VQ jumped up and shouted, and he swears I was still sitting there starting to clap for the winner.

We went up and collected our little Jack and rosette, and the announcer said that the dessert had received a perfect score of 180 -- all six judges had given it the highest possible marks in each attribute of appearance, taste and texture. When I was asked what I'd made, I had to give tribute to its origins, because I would never have thought to enter it without the kind praise of those who had eaten it, so I named it "Mr. Daniel's Favorite Potluck Dessert". And that's the story of how an improvised foil pan of poundcake, apples in spiced caramel-cream-
Jack sauce, whipped cream and crushed shortbread became...

The Most Perfect BBQ Dessert In The World.

One of our BBQ Brethren, Bbq_Bubba, caught the dessert call on video and has placed it on Youtube -- you can see it HERE.